Meet Dr. De Francesco
Dr. Nicki De Francesco is an Orthodontist at Smiletown Dentistry in Burnaby. She loves working with children and families to optimize their orthodontic care.
Contact Our Orthodontics Team
If you've got an Orthodontic problem, question, or just need to get in touch with a member of our orthodontics team, we've got a dedicated line set up just for you.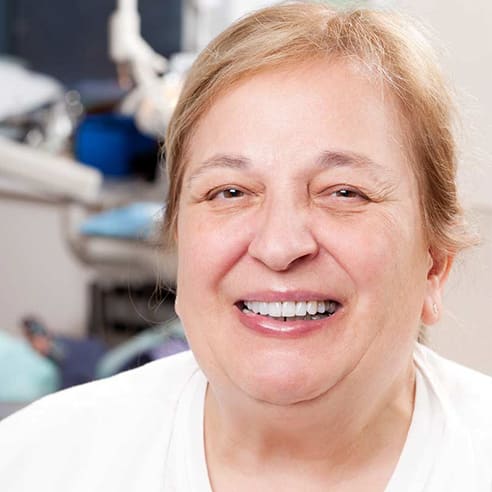 Dr. Nicki De Francesco
Orthodontist
Certified Specialist in Orthodontics
Biography
Dr. De Francesco, also known as "Dr. Nicki," is an Assistant Clinical Professor in Orthodontics at the University of British Columbia (UBC) Faculty of Dentistry. Dr. De Francesco has a total of 27 years of experience practicing in Vancouver, the lower mainland, the interior of BC and on Vancouver Island. We are proud to have her as a member of the close team at Smile Town Dentistry.

Dr. De Francesco is committed to developing and improving her orthodontic knowledge and skills through participation in a number of orthodontic study and research groups. She is passionate about volunteering to support disadvantaged young people in her community. Dr. De Francesco has numerous hobbies including gardening, golfing, skiing, yoga, singing, sculpting in stone and clay, jogging and spending quality time with loved ones. 

She is thrilled to be a part of the Smile Town Dentistry team and looks forward to working with all of her wonderful patients to optimize their orthodontics care.
Download the FREE SmileTown Kids' Activity Booklet.
A great resource to help get your kids ready – and excited – to visit the dentist.
---
Enter your email address below to get the FREE activity book and to receive our latest news and updates.